A stainless steel tumbler is a great thing to carry whenever you move out or travelling or working late night because it can help you keep your tea or coffee warm for hours. Basically, these tumblers are made in a way that let's not change the state of either hot or cold coffee or tea. If it is hot, it will stay hot for hours. If it is cold, it will stay cold for hours. Different tumblers have different capacity in terms of how many hours they keep the tea/coffee to its original temperature.
When I was a student, I used to work till late at night, and even now, I work till late. Since everyone sleeps in this duration, I cannot ask anyone to prepare coffee or tea for me. In fact, I cannot prepare as well because it will kill productive time. Therefore, it is a great idea to prepare tea or coffee once and fill your tumbler. And, keep sipping throughout the night. That is the reason, I got a stainless steel coffee tumbler for my use, and I am quite happy with it.
Since it is very useful, it is vital that you choose the one that is leak-proof, durable and has some built-in thermal properties as well.
In this article, I am going to talk about 10 best stainless steel tumblers to choose from among the tons of such tumblers that you can find in the market.
---
10 Best Stainless Steel Tumbler
---
Being one of the best stainless steel insulated tumblers, it keeps coffee hot at any moment of the day. This amazing stainless steel mug has some appealing attributes that contribute to its awesomeness. It can keep your coffee hot for up to 5 hours, and if you want your cold coffee to stay cold, this mug assures that you will have it cold for up to 12 hours.
It is spill and leak proof and is designed to be 100% BPA-free. It also has a non-slip bottom pad and grip sleep and can hold as much as 16 ounces of liquid capacity to last you for as long as you want.
This is the best if you commute every day, you can carry along, and even you can keep in your purse or bag without having to worry about the leakage since it is leak and spill proof.
Pros
It keeps your coffee at the right temperature for hours.
It has an awesome lock/lid.
Zero mess is guaranteed.
It can fit most regular size cup, holders.
Cons
You will find it difficult to screw the cap on if the mug is overfilled.
Some users find the horizontal buttons out of place.
Poor drinking-hole design.
Contigo Autoseal Stainless Steel Travel Mug FAQs
Q: Can I use it in Microwave for heating coffee?
A: No, you cannot. Also, there is no need for heating again because Contigo Tumbler keeps the tea/coffee warm for long hours.
Q: Will it stain if I put green tea into it?
A: No, it won't. It is stain-free.
Q: What is the diameter of its inside mouth?
A: About 2.75 inches
If you want to bid room temperature drinks farewell, get this amazing mug that easily ranks among the best stainless steel tumblers for keeping your coffee at the right temperature. This stainless steel tumbler is made from food grade stainless steel to ensure that it serves its purpose well and is non-toxic with 100% BPA-free rating.
The best stainless steel tumblers are equally eco-friendly and guarantee that your environment is not exposed to any danger as a result of using the tumbler and has the right size for keeping a great volume of coffee for consumption.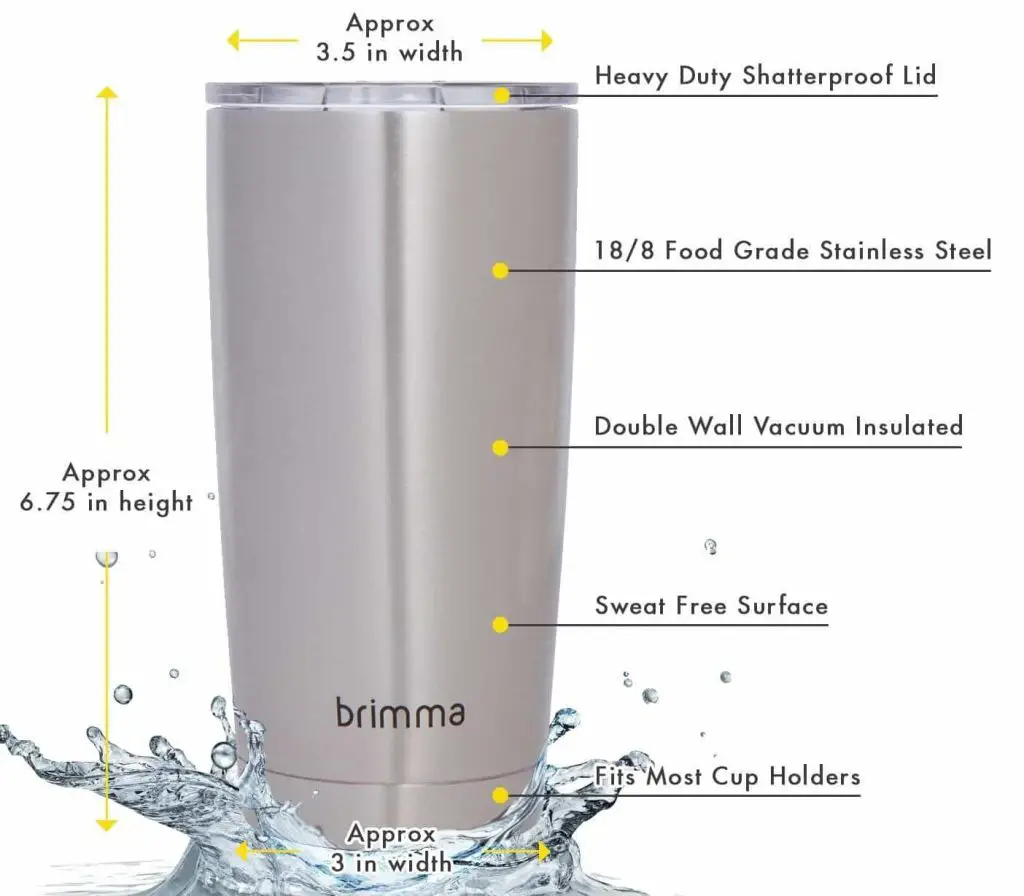 Pros
It is portable.
It is durable.
You don't have to worry about your coffee; you will always have it at the right temperature.
It fits your cupholder easily.
Cons
The cup can be stained inside.
The lid may occasionally be loose.
Premium Vacuum Stainless Steel Tumbler FAQs
Q: Will the coffee spill out if I keep this in my bag or purse?
A: No, nothing will come out. This is spill proof. Very good product if you are concerned about leakage.
Q: Can the lid allow to use a straw?
A: Yes, but since it has thin opening, you can use a slim straw for sure.
With its splash-proof attribute, this tumbler deserves a place on the list of the best stainless steel travel tumblers. It possesses a double wall vacuum technology that prevents the transfer of heat from the coffee to keep cold drinks up to 24 hours and hot drinks for about 6 hours. The tumbler is also easy to clean and maintain with its large mouth opening that makes cleaning easy for the user.
As a member of the best stainless steel tumblers, it is BPA-free, and your satisfaction is guaranteed with money back promise.
Check More Details
Pros
It is perfectly stainless.
It can easily be maintained.
It is splash-proof.
Cons
Some users complain of aftertaste.
The lid doesn't stay on the tumbler.
Stainless Steel Tumbler with Splash proof Sliding Lid
Q: How can I clean it?
A: You can clean it by using Dishwasher or your hand. If you have thin hands, you can easily put in it to clean it well.
Q: If the tumbler if I turn upside down?
A: It may because it is splash proof, not leak proof
Utopia Tumbler is a great travel mug that you can use while travelling. Since it is made for travelling purpose, it is quite durable and portable as well.
Its interior quite appealing and it boasts of a double wall vacuum installation that helps it to maintain the temperature of whatever liquid stored in it. Its large mouth allows easy cleaning as well.
Pros
The coffee mug is made of BPA-free stainless steel.
Its exterior is lined with a double vacuum.
Cons
The handle is hard.
It has a flimsy plastic lid.
Utopia Tumbler Travel Coffee Mug
Q: Is Utopia Tumbler dishwasher safe?
A: No, they are not. You must clean it using hands only.
Q: How tall the Utopia Tumbler?
A: It is 7.63 inches tall which is fail height to carry along.
This best stainless steel tumbler with Straw from SOEOR is simply one of the most durable and best stainless steel tumblers you can find in the market. Besides its impressive thermal features, it boasts of a very tight seal to ensure that the lid is firmly sealed to prevent leaking. This ensures that your cold beverages can retain its coldness for about 24 hours while a hot beverage will stay hot for up to 8 hours without going lukewarm. To ensure its uniqueness, the tumbler comes with a stainless steel straw to make drinking from the mug much easier during colder summer.
Pros
Reusable design.
Impressive dual wall vacuum insulation.
Tight seal for leak prevention.
Highly efficient for keeping beverages at the right temperature.
Cons
It has no handle.
It is a bit bigger than a regular cup holder.
Soeor stainless Steel Tumbler With Spill Proof straw
Q: Is Soeor stainless steel tumbler Dishwasher safe?
A: yes, it is. Try keeping in the upper rack while cleaning in dishwasher
The list of the best stainless steel coffee tumbler won't be complete without a mention of this tumbler produced by Bitterfigs exclusively to meet your needs. The mug is among the best choice with its double wall vacuum insulation that promises to ensure that your coffee maintains its temperature for hours.
In addition to the extremely valuable insulation, it also sports an easy-to-use metal straw that is durable and comes with a cleaning brush for easy maintenance of the mug. It can be kept on the top if we make a list of the best stainless steel tumbler with straw.
Pros
Beverage doesn't lose temperature unnecessarily.
It is made from an FDA-approved material.
100% BPA-free.
It has a splash-proof lid.
Cons
It has a metallic taste.
It may be too big for women.
Bitterfigs Vacuum Insulated Cup FAQs
Q: Is Bitterfigs Vacuum Insulated Cup leak proof?
A: Yes, but since there is a small hole in the lid for straw. stuff can spill out in form of drops when you turn it upside down. but, the seal is good so no heavy leakage problem is there.
This tumbler guarantees that your beverages will never lose its hotness or coldness as fast as some inferior tumblers. Without a sweat design and BPA-free quality, the tumbler is dishwasher safe.
You are assured of ultimate durability due to the durable stainless steel material used for the construction of the lightweight tumbler when you use a member of the best stainless steel tumblers.
Pros
Perfect size for beverages.
Keeps your beverages hot or cold according to your preference.
It is dishwasher safe.
It doesn't leak.
Cons
The fake replica has taken over the marketplace.
It may have lid issues.
YETI Rambler Insulated Tumbler with Lid FAQs
Q: Does Yeti Rambler keep only stuff only cold or hot too?
A: It does both. If you put hot drink, it will keep that hot. If you keep cold drink, it will keep that cold.
Q: Does this sweat outside when cold stuff is kept and becomes hot when hot stuff is kept?
A: No, it doesn't sweat when on cold, and also when you put hot, the outer part doesn't get hot. However, a little warmer you can feel by touching.
If you are always on the go, endeavour to have this mug in your travel pack. As one of the best stainless steel tumblers, this stainless steel tumbler boasts of one of the best designs that assure you of getting your beverage either cold or hot for hours on end.
It is made from eco-friendly and high-grade stainless steel that makes it durable and not hazardous to the environment. It is also leak proof, and FDA approved.
Pros
Portable and light.
It comes with a stainless steel tea infuser.
Powerful insulation against heat loss or gain.
Made of eco-friendly material.
Cons
The cup has a poorly-designed bottom.
Can't keep the beverage at the right temperature as others.
Swivgo Insulated Travel Mug with Stainless Steel FAQs
Q: Is the lid BPA Free and FDA approved?
A: Yes, it is BPA free and FDA approved as well.
Q: Is there need to screw off the cap to drink water or something else?
A: No, you don't have to take anything screw off. You only need to push and drink.
As one of the best coffee mugs to keep coffee hot always, the Thermos stainless steel travel mug is made of durable stainless steel that is cool to the touch even with your hot beverage carefully stored to retain its temperature.
You can keep your coffee hot for some 5 hours while the mug can also keep cold coffee at that temperature for 9 hours. It is portable and can fit most of the automobile cup holders.
Pros
It has a leak-proof lead.
The mug is durable.
The outside is not hot to touch.
It comes with a handle.
Cons
Poorly constructed handle.
The paint finish occasionally chips.
Thermos 16 oz Travel Mug FAQs
Q: Can it be cleaned in Dishwasher?
A: Yes, it is. You can wash it in the dishwasher. Preferably put in the upper rack of dishwasher while cleaning.
Q: Does coffee taste metallic when kept in this tumbler for long time?
A: No, not at all. You will get the real taste of coffee only.
A very durable, efficient, and one of the best stainless steel travel tumbler, the Hommit travel tumbler surely deserves a mention here. Its cold and warm retention ability is impressive as it can hold hot coffee for about 8 hours and an ice cake can be held for 24 hours, all thanks to its double wall insulated design.
The tumbler is made of a high-grade stainless steel material that is equally reusable, FDA approved, and BPA-free.
Pros
It doesn't rust.
It is odourless.
Made of a better alternative to plastic.
Cons
Lid issues.
Issues with the handle.
Homitt Stainless Steel Tumbler with Lid FAQs
Q: Can I get the plastic lid separately as I just cracked it?
A: Yes, it can be bought separately as well. Moreover, any lid of 30 OZ will be fit in this tumbler as well.
Conclusion
These are top 10 out of the best stainless steel tumblers that you can get from Amazon or you can try getting from your nearby offline markets as well. Always be careful while buying tumblers because many of the products don't work at all as promised. We have handpicked the best ones for you so that you don't get bogged into the crowd of thousands of such tumblers.
Hope you would be able to make a good buy now.