One of the greatest challenges of some people is access to clean and potable water. All over the world, millions of people are denied access to one of the basic human needs: potable water. This is a huge problem because humans cannot do without However, in an effort not to be denied this basic need, humans have come up with a very effective way of converting dirty and undrinkable water to clean and healthy water.
A water filter removes impurities from water and makes it clean and drinkable by using different techniques to lower the contaminants in water through either a biological or a chemical process. A physical barrier can also be used for the same purpose.
Filters are designed to cleanse water for different purposes which may include for drinking, agricultural use, private and public aquaria, and for use in swimming pools and ponds.
There are different filters for a wide variety of purposes as previously mentioned. However, in this article, I will focus on a special type of water filter, the canister filter. What are canister filters?
What are canister filters?
Canister filters are special filters designed specifically for use in aquaria. These filters use a sieve, an intake tube, or a valve to remove water from a fish tank and run the water through a filter media in a pressurized canister. The filtered aquarium water is subsequently pumped back through a spray bar or a spill way back into the aquarium. Now let us know how does a canister filter function?
How does a canister filter work?
A canister filter uses a simple but efficient water filtering technique to purify the water in an aquarium. The filter will draw water out of the aquarium through a lift tube into a canister or an external filter chamber. When the water gets to the external filter chamber or canister, it will be passed through some filter media where it will be clean. This ensures that the aquarium is filled with clean water only.
The aquarium filter media uses a couple of filtration techniques such as biological, chemical, or mechanical. Sometimes, the biological or chemical technique may be combined with the mechanical filtration for efficient filtration. The choice is a factor of the type of filter media you want to use in your canister filter.
Pros and cons of canister filter
For the fish keeping lovers, canister filters if well-maintained are highly useful. They come with several benefits, thus giving you better options to take care of the fishes in the fish tanks and also ensures that the fishes are not harmed. This makes the canister filters irresistible to all the fish keeping lovers. However, let us see some of the pros and cons of canister filters as follows:
Pros:
Different filtration techniques
Low maintenance
High flow rates
Easy setup
Quiet operation
Cons:
They are expensive
It is heavy to lift
There might be leakage due to an old rubber gasket
Now that we have a generic idea as to what are canister filters, how do they function, their pros and cons, etc. let us get into knowing specifically the top 5 canister filters one would want to buy.
Types of canister filter
There are different types of canister filters designed considering various factors like weight, capacity, media storage, etc. In this article, we shall brief you with the top 5 canister filters of them.
Sunsun canister filter HW-304B- Best Canister Filter
This Sunsun canister filter is a heavyweight canister filter that is ranked among the high-power canister filters due to its impressive attributes. Sunsun canister filter HW-304B have the capacity to filter 150-gallon fish tanks easily. The dimension of this filter is 11"L*11"W*17"H.
The filter also contains three media trays. These trays allow you to personally customize the set up according to the specific filtration media of your choice be it activated carbon ceramic rings or bio-balls. This ensures excellent mechanical, chemical and biological filtration. Also, the filter comes with the necessary accessories like hoses and nozzles, starter pads all that is required to get started with. Also, the flow rate of this filter is 525 GPH (2000L/Hr).
Also, the 9W UV bulb helps to kill algae spores and bacteria thus ensuring a crystal clear water. It is suitable for both saltwater and freshwater. Considering all the above factors, the Sunsun HW-304B canister filter would be the best choice for aquarium keeping.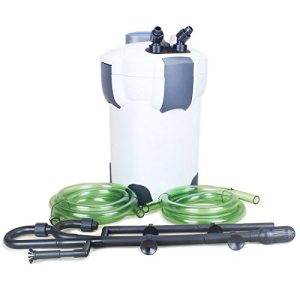 Pros
Multi-stage filtration.
UV option.
Self-priming pump that eliminates need for manual siphoning.
Cons
A bit heavy.
The instructions kit is not much helpful.
Cheaper for the features it provides.
Sunsun Canister Filter FAQs
Q: If power goes will the unit leak?
A: No, it's a sealed unit.
Q: UV light shall be kept on for 24 hours?
A: Yes, always keep it on and occasionally check if its burnt. 
Eheim Canister Filter- Best Aquarium Canister Filter
Eheim Canister filter is simply one of the best canisters for aquaria.  One of the best models being Eheim Classic 600 Canister Filter 2217. This canister filter boasts of the simplest design and efficient and attractive functioning.
The model has complied highest quality standards. The flow rates have been accurately calculated such that it provides the perfect balance between mechanical and chemical filtration. The water circulation and oxygen enrichment conditions ensure optimum conditions for aquarium keeping. However, servicing of the filter shall be done regularly within 3-6 months.
This Eheim filter has a dimension of 11"L*8"W*16*H. It is very much suitable for a 180- gallons fish tank (600 litres). It comes with all the accessories required for installation and setup be it spray bars, filter pads/ filter media, inlet pipe, hoses, etc.
The filter is suitable for both freshwater and salt water. These are robust and sturdy due to its design with chrome plated snaps that can be used to tighten the case and head firmly in place. The combination of the snaps with a high-quality ring ensures that the filter is well covered and protected from airborne solid contaminants as well.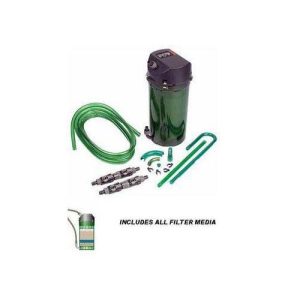 Pros
Very quiet running.
Millionfold tried and tested.
Easy to add filter media due to single chamber. 
Cons
Eheim Canister Filter FAQs
Q: Does it come with biological media?
A: Yes, it comes with bio-balls and ceramic rings. 
Fluval Canister Filter
If versatility is what you are looking for in a canister filter, the Fluval canister filter is your choice. A reputable member of the group is the Fluval 306 A212 canister filter. This canister filter boasts of increased pumping power and that allows filtration to be done faster than most other filters.
With its user-friendly features, the operation of the tank, as well as its setup, the Fluval 306 canister filter is easier to operate than most filters. It ensures multi-stage filtration. It is suitable for both freshwater and saltwater. It is best for 70 gallons fish tanks. The sound dampening impeller design helps the quieter operation. Also, the head height of the filter is 5.8 feet. The aquastop valve ensures no leakage and stops water flow without disconnecting hoses. The bearings are so engineered that it reduces impeller vibration and ensures quiet operations.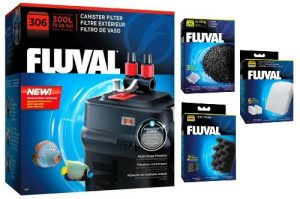 Pros
Clog-proof intake strainer with dual-layer foam screen.
Instant startup without the need for manual siphoning.
Quiet operation.
Independent modules allow media removal easily and without the mess. 
Cons
Lower capacity
It doesn't include the UV filter.
It doesn't have an output flow height detector.
Fluval Canister Filter FAQs
Q: How frequently does the ceramic shaft needs to be replaced?
A: It needs to be replaced yearly.
Q: Can the chemical media be cleaned?
A: No, it needs to be replaced. 
Hydor Professional 600 External Canister Filter- Best External Filter
Hydor Professional 600 is a new entrant into the market but it has continued to show why it is one of the best aquarium canister filters. It is an entire eco-system in a box. It is suitable for 90 to 150-gallon fish tanks (600 litres). The easy priming feature to the telescopic intake tubes makes has been made easy in this Hydor model thus making it a unique one. It is made with the best and durable materials that can withstand the stress associated with the filtration process.
For both beginners and professionals alike, the Hydor Professional External canister filter, an ambassador of the Hydor canister filter brand, is the easiest filter to set up. The dimension the filter is 11"L*9"W*24"H. The flow rate is 345 GPH. Also, it comes with the right recommendations and setup instructions for easy installation.
It is equally noiseless and comes with a durable hose and a rotating hose attachment for ease of use.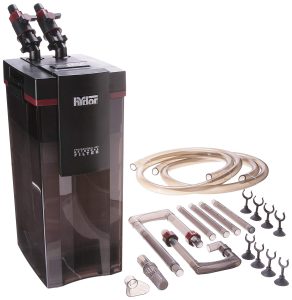 Pros
Powerful flow rate.
Easy to set up.
Its rectangular shape provides increased capacity.
Expandable spray bar. 
Cons
Maintenance is a bit difficult.
Replacement parts are scarce. 
Hydor Canister Filter FAQs
Q: Does this canister filter have UV sterilizer?
A: No, it does not have UV sterilizer.
Q: What is the internal and external diameter of the tubes?
A: It inlet side uses 5/8" tube. The outlet side uses ½" tube.
Q: Can we use Charcoal in it?
A: Yes, you can use a charcoal filter. 
Penn Plax Cascade Canister Filter
Penn Plax Cascade Canister Filters is another best canister filter for your aquarium. It is so designed that the large capacity stackable media trays allow multi-stage filtration. Also, priming the filter is easy since it comes with quick and easy pushbutton primer.
It has 4 large media baskets that can be customized to meet the customized need of every user. The flow valves are easily removable for your canister maintenance. It is designed ergonomically to give it a well-built body. Its large filter trays, guarantee you longer period of time before you make replacements and also provides more media storage.
The Penn Plax Canister has flow valves rotating 360 degrees, thus ensuring no flow issues even in the tightest cabinet. The dimension of the filter is 11.5"L*20.5*W*11"H. It is suitable for fish tanks upto 150 gallons. The flow rate is 315 GPH.  This filter comes with all the necessary accessories required for the installation and the filter to start.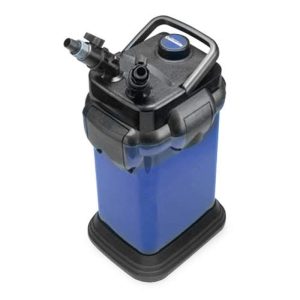 Pros
Quiet operations.
The air-tight seal ensures the proper flow rate.
Easy maintenance.
Sturdy rubber base to keep the unit in place.
Easy priming feature. 
Cons
Baskets are too small to cause water to bypass from sides of compartment. 
Penn Plax Canister Filter FAQs
Q: Is this filter good to use a turtle tank?
A: Yes, it is suitable but would require more cleaning due to wastes turtles generate.
Q: What are other compatible media?
A: Bio-floss, Bio- sponge, Bio- Rings.
Conclusion
So, now that you know what are the factors to be considered while buying the best aquarium canister filter, one of the above five shall satisfy your requirements for aquarium keeping. You just need to select the best one suitable for your needs and enjoy the beautiful looking creatures of nature in the small space of your house providing them with the required environment. The canister filters will provide fresh and clean water anytime during the year.