Getting a high-quality water filter is one of the most convenient and best ways to give yourself and your family access to clean and healthy water that is devoid of potentially harmful impurities and chemicals. 
These water filters purify your water when you pass your tap water through the filter by either removing unwanted sediments or chemicals if the filter is made of an adsorbent material or preventing the sediments or chemicals from passing through if they are made with a membrane that has small holes.
Before we move ahead to the list of the best water filters for refrigerators, let's first take a look at the factors to consider while buying refrigerator water filters:
Factors to Consider while Buying the Best Generic Refrigerator Water Filters:
1. Cost 2. Compatibility 3. Purification Technology4. Certification
Cost is the most important factor because you can buy only those things that fits within your budget. However, quality matters as well. So, don't always go for the cheapest one rather analyse the specifications, compare various brands and their refrigerators and learn more about their compatibility issues and all. Then, choose a good one within your budget.
When it comes to buying the best generic water filter for refrigerators, compatibility becomes one of the most important factors to consider because the refrigerator has the space for fitting the filter. You have to buy according to that space. Thus, try to buy the water filter of the same brand of the refrigerator so that there will not be any compatibility issue. You must check out that the water filter you are going to buy fits well into your refrigerator
If you want to buy from Amazon.com, they have an option to each Water filter for refrigerator page:
You can use this option to make sure that the water filter is compatible with your refrigerator.
This is very important that you get the one that fits well to your refrigerator so never miss to consider this factor.
Since you are going to buy a water filter, you must consider to know what technologies it uses, and what kind of impurities it takes out from the water to make it drinkable. As some filters just filter the normal dust, and other impurities whereas, there are advanced ones which filter a lot of complex impurities. Thus, as per the water supplied to your house, choose the one that can make the water safe to drink.
Since it is related to the health as drinking impure water can invite various diseases, it is very important to see the certification of the water filter you are going to buy. Certification ensures that the product has passed the purity standard tests. Such as NSF has various ratings according to which you would be able to know what your filter is certified for. Such as, NSF/ANSI 42 rating means it can reduce chlorine and bad odor from the water.
So, do check the certification, and check the details on the NSF site to match as to which impurities the product is certified for.
Now, since we have already had a look on the factors, let's check out the best Water Filters for Refrigerators list.
---
10 Best Water Filters for Refrigerators
---
The General Electric water filter offers you premium filtration that is certified to help you with the removal of lead, chlorine-resistant cysts, and some other contaminants.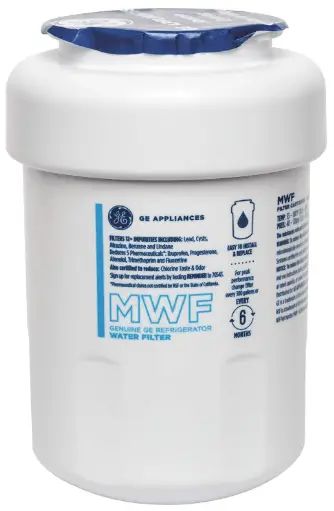 This is the best water filter for GE refrigerators and you get guarantee of six months of filter life as well to enable you to get the best filtration results. During the period, you can have access to 300 gallons of clean water. 
Pros
Easy filter replacement. 
It is NSF certified. 
It comes in a variety of colors.
It is affordable.
Cons
It sometimes has a low water pressure issue.
Its installation can be a bit tricky.
If you want the best water filter for Samsung refrigerator, consider this water filter. It comes fully equipped with the right features that make it the ideal filter for this refrigerator brand.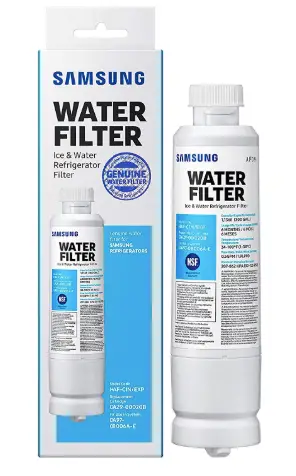 This filter is guaranteed to remove impurities from source water before the water is presented for consumption. In addition to ensuring that your family has access to fresh and clean water, the filter also protects your refrigerator from potential damage. 
As one of the best inline refrigerator water filters, its concentrated carbon filter will assist you to remove over 99% of harmful contaminants from your water. That's quite assuring.
Pros
The filtered water will have a great taste.

It reduces home maintenance cost by preventing potential damage.

Easy filter installation.

It works perfectly with no leaks.
Cons
There are many counterfeit products in the market. 

Low water pressure.
If you are using a Whirlpool refrigerator, this filter ranks among the best generic refrigerator water filter. The water filter is the only of its kind certified by Whirlpool Corporation itself for purifying water for the Whirlpool refrigerator brand.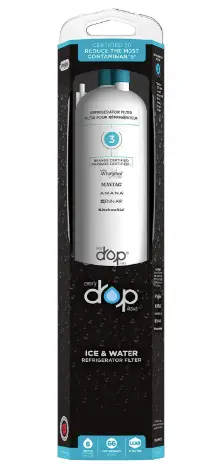 The water filter is also certified by NSF due to its tested and proven ability to reduce lead, pesticides, pharmaceuticals, and other impurities. A filter will serve your for 6 months or give you 200 gallons of potable water. This is absolutely the best refrigerator chlorine water filter for whirlpool.
Pros
It is a dependable water filter.

Installation is pretty easy.

It is an efficient water filter.

Great price.
Cons
Some users complain about "funny" water taste.

Low water flow.
The Kenmore water filter is another reliable water filter you can use for your refrigerator. You can use the filter for improving both the clarity and taste of your water.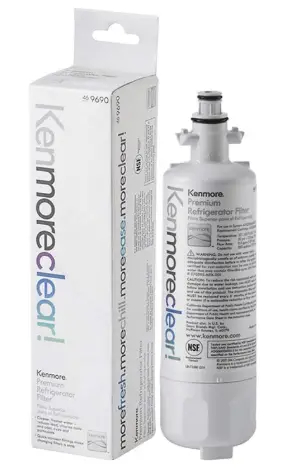 The water filter comes fully equipped with a granular carbon filter that is specifically designed for improving water taste. If you constantly struggle with impurities such as sediment and cysts, this is your best option. 
Pros
It is a highly rated water filter. 

Great water taste after filtration. 

It is the perfect fit. 

Easy replacement guaranteed.
Cons
Buy from a reliable source as there is the prevalence of counterfeit products. 
This water filter from Frigidaire is one of the best options if your water supply is not free from contaminants. As a multipurpose water filter, it also works for Kenmore 106 refrigerator and other Frigidaire refrigerator models with a front cassette.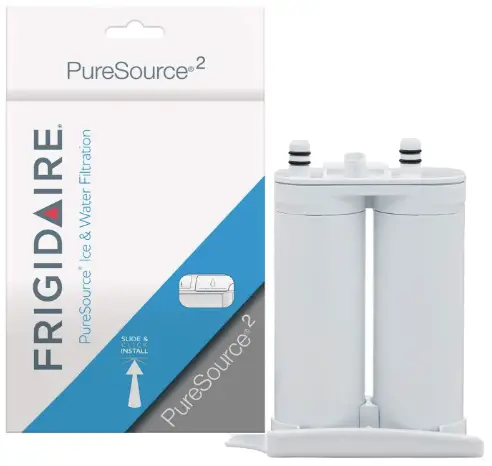 The efficient water filter will reduce cysts, lead, turbidity, mercury, pesticides, herbicides, and other impurities by over 90% to provide you with contaminant-free water for your consumption. 
You don't have to worry about chlorine taste as well. It reduces the bad taste and gives your water an improved taste.
Pros
It can remove a wide range of impurities. 

It is NSF certified. 

Easy replacement. 

Longer replacement period of nine months. 
Cons
It doesn't reduce fluoride.

The installation can be a bit tricky.
This is the second Samsung water filter in this list. The tested and certified refrigerator water filter assures you of reduced contaminants in your water to give you access to fresh-tasting waters.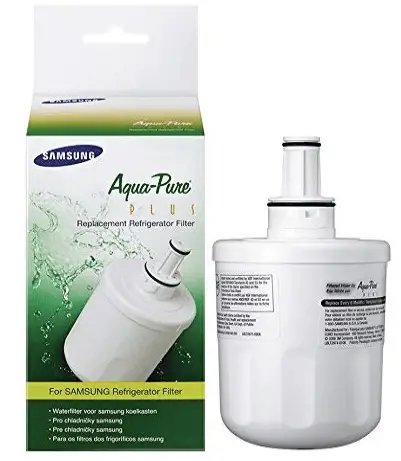 This product uses high-grade carbon block with its revolutionized technology for filtration and the efficient system removes over 99% of the impurities in the process. Its NSF certification is a big plus for the water filter.
Pros
It is NSF-certified. 

The filter works well. 

Not expensive. 

Works well on well water.
Cons
The installation instructions are not clear enough.

It may require modification.
The tech giant, LG, also came up with this durable and highly efficient refrigerator water filter. The filter is certified to reduce chlorine odor and taste and thus deliver healthy and clean water. 

As a filter, it can reduce asbestos, lead, benzene, and other impurities with a view to giving you potable drinking water. The filter will give you 200 gallons of clean water before replacement.
Pros
It reduces benzene impurity. 

It is compact and efficient. 

It is compatible with a wide range of refrigerators. 

Excellent performance guaranteed.
Cons
It doesn't remove fluoride.
It is more expensive than most refrigerator water filters.
This refrigerator water filter is another popular option among water filter consumers who are passionate about its excellent performance and versatility. The water filter can handle a wide range of chemicals and contaminants to give you clear and odorless water.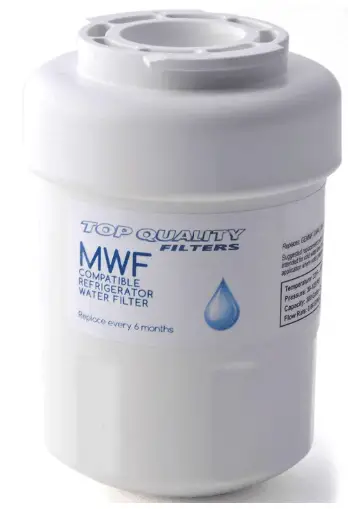 Buy Now Pros
Efficient. 

Affordable. 

Compatible with a wide range of fridges. 

Durable.
Cons
It cannot handle too much chlorine in the water.

Not recyclable. 
Certified by a couple of regulatory bodies such as WQA, NSF, and the USA Water Qualification Association, rest assured of getting the contaminants in your water source completely removed by this water filter. The water filter can remove a minimum of 95% of the contaminants such as benzene, lead, asbestos, particulates, and chlorine taste.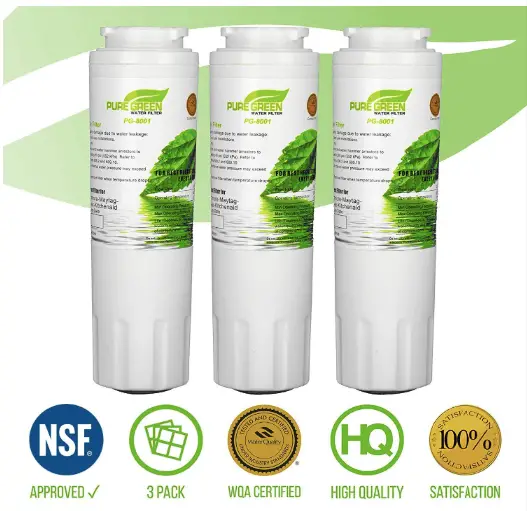 With its simple design, the filter is pretty easy to use to enable you to enjoy clean and healthy water in your family. Each glass of water will be hydrating and healthy. The best-recommended refrigerator water filter reviews will be incomplete without this water filter. 
Pros
Easy filter replacement. 

Simple design. 

Compatible with a long list of refrigerators. 

Affordable.
Cons
Noisy.

Some users complain of black water. 
The last member of this list is a water filter that has been tested and certified as a dependable water filter for removing unpleasant odor, bad taste, and chlorine from your water source.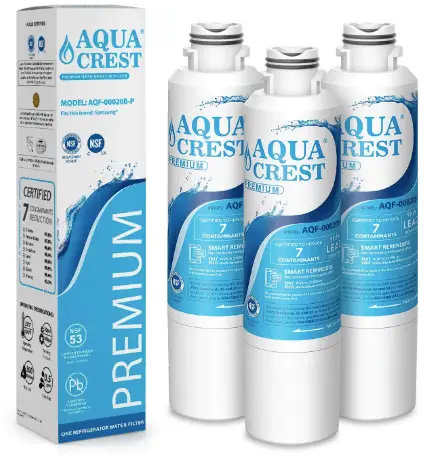 It also retains the beneficial minerals that you need from your water to ensure that you have healthy and clean water for drinking. The water filter is designed to be compatible with a good number of refrigerators. One of the best water filters for refrigerators.
Pros
It can fit the original. 

Easy installation: no tools required. 

Easy to operate. 

Efficient contaminant removal. 
Cons
You may have to deal with leaks. 

Light filter.
Conclusion
Water is the most essential thing for living but due to industrialization and many other factors, water has been being polluted a lot. Thus, it is important to purify the water before consuming it to stay well. Water Purifiers are the way to go but you have to make sure to choose the best one for your house. There are many types of water filters such as Faucet filters, RO, and many others. In this article, we talked about Water Purifiers for refrigerators. We tried our best to list out the best one on the list so that you get some help while choosing the filter for your refrigerator. So, Get one of the best water filters for refrigerator and your water worries are over.